Stanmore Insurance Brokers are incredibly proud to be headline sponsors of the awards.
My journey with the SHE Inspires Awards was to be nominated unexpectedly in 2019 for the Business Woman of the Year and was delighted to end up the winner. The whole experience was wonderful and it gave me a real boost in confidence. This led to me exploring more about these wonderful awards and finding out what more I could do. I'm now an Ambassador, Judge, Sponsor and all out raving fan because women who enter whether they are a nominee, finalist or winner will get a huge buzz by taking part.
So win or lose, I send you my congratulations on your success. You are an inspiration and also a fabulous role model to our next generation.
Jackie Hyde
Managing Director
Stanmore Insurance
Bolton Council is delighted to sponsor the She Inspires Awards for its second year.
Bolton is fortunate that it is blessed with such incredible and motivational women who are the heartbeat of our communities. These awards provide positive and diverse role models to future generations in Bolton and we are ready to welcome inspiring women from all over the world from Bangladesh to Daubhill. We have a great history of creating the best conditions and environment to drive growth and promote innovation and entrepreneurship in Bolton, which enables talents and businesses to flourish and thrive. Team Bolton embodies the council's partnership working and the recent community champions campaign is a fantastic example of successfully breaking down barriers to get information into communities through volunteers to support residents to live a healthier and happier life.
Cllr Nick Peel
Bolton Council Leader
As a University Provost the honour and indeed the pride is mine to welcome you all to the eighth She Inspires Awards ceremony.
We at the University of Bolton continue to celebrate in being one of the most diverse and inclusive higher education providers. Our 2022/23 academic year data shows we have enrolled over 9,300 students on campus and another 4,100 to study off campus through the transnational education framework. Students are studying both undergraduate and postgraduate degrees. It is of no surprise that through our strategic work the majority, in fact 59.2% of the student population identify themselves as females. In many cases our students are the first women in their families to enter Higher Education.
The University of Bolton plays a pivotal role in supporting more women to become current and future leaders. The University offers tremendous opportunities for women to flourish and the power of education leads to transformational changes towards betterment of life and opportunity. I am a believer in the value of education. Its impact changes lives and builds compassionate communities. Social mobility and offering the best possible opportunities for everyone is a crucial aim for the University. I would like to congratulate all the She Inspires Awards finalists. To be nominated illustrates you as an inspiration and sets out recognition of your hard work and commitment. Good luck to you all and enjoy your awards evening!
Zubair Hanslot
Provost
University of Bolton
Bolton College has supported the She Inspires Awards since its inception and this year we are delighted to be involved by sponsoring the Women in Digital Award.
These awards have grown from relatively humble origins to their current state of being a significant event, not only local, but national, and indeed international recognising the outstanding contribution of women across a wide range of sectors. I was privileged to be involved in judging the award for this year's Digital category and as in previous years could not help but be extremely impressed by the high calibre of entrants and submissions. Bolton College wishes to applaud all who entered the Awards and of course a particular congratulations to the category winners.
Bill Webster
Principal
Bolton College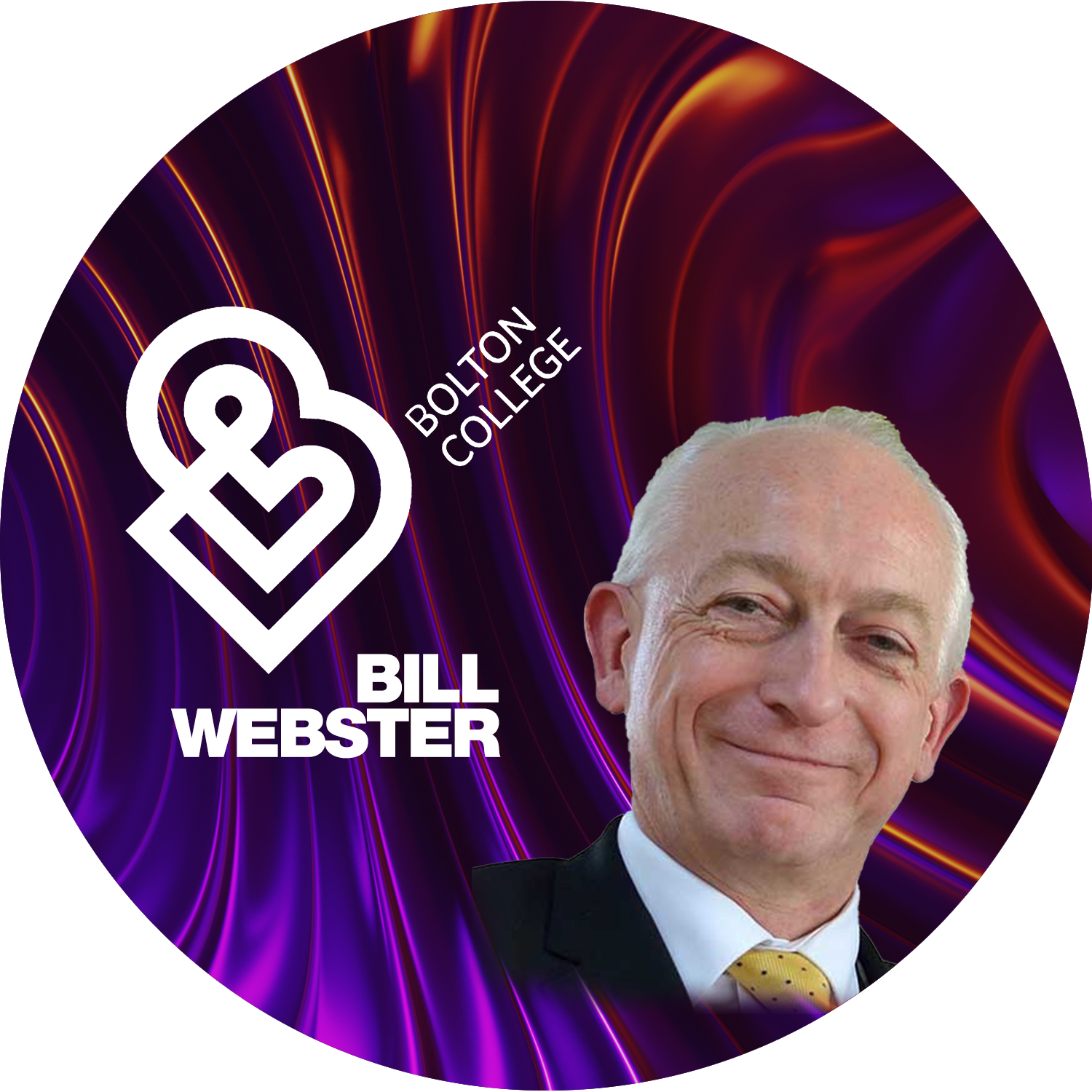 The Sixth Form Bolton is proud to sponsor the She Inspires Awards for the first time this year.
Congratulations to all of the 2022 Finalists shortlisted, good luck and best wishes this evening. By launching our own 'B6 Women into Leadership Programme' in September 2021, we have become a pioneer, highlighting and celebrating women in leadership with our young learners in the borough. The programme supports all young women to thrive and have opportunities to develop social capital, personal skills and connections. The programme has cemented a culture of support at B6, with coaching, workshops, social activities and cultural experiences. The programme also enables students to meet women leaders from all walks of life who share their personal journeys and nuggets of great advice. Our aim is to elevate experiences, confidence, aspirations, resilience and employability skills.
Sandra McManus
Deputy Principal
The Sixth Form Bolton
The Royal Air Force is extremely proud to be part of these awards and the continuing success it brings to the world of gender equality.
Championing women is about standing side by side and working together to make sure we all rise together. As a female engineer in the Royal Air Force I have seen for myself the difference it makes when our contributions are recognised, supported and applauded. Bravery is about taking that next step, believing in yourself and never giving up. We salute the commitment and passion that drives each and every one of you to achieve your goals. Fly high. Per Ardua Ad Astra.
Sgt. Amanda Edwards
RAF, Engagement Team North
Bolton at Home is delighted to once again support these awards that recognise the value and important contribution of women in all aspects of society.
We wish all the nominees good luck and all success in their future endeavours. The women recognised through events such as the SheInspires Awards provide role models for young women and girls and demonstrates that they really can be anything they want to be.
Shauna Morton
Head of Community Investment
Bolton at Home