IT was a night of inspiration when 550 people got together to applaud female award-winners from the town, region and across the country and thousands more joined in online from around the world.
The eighth SheInspires Awards held at the Bolton Stadium Hotel produced big winners and a chance for 36 individuals and several local charities and businesses to step into the spotlight.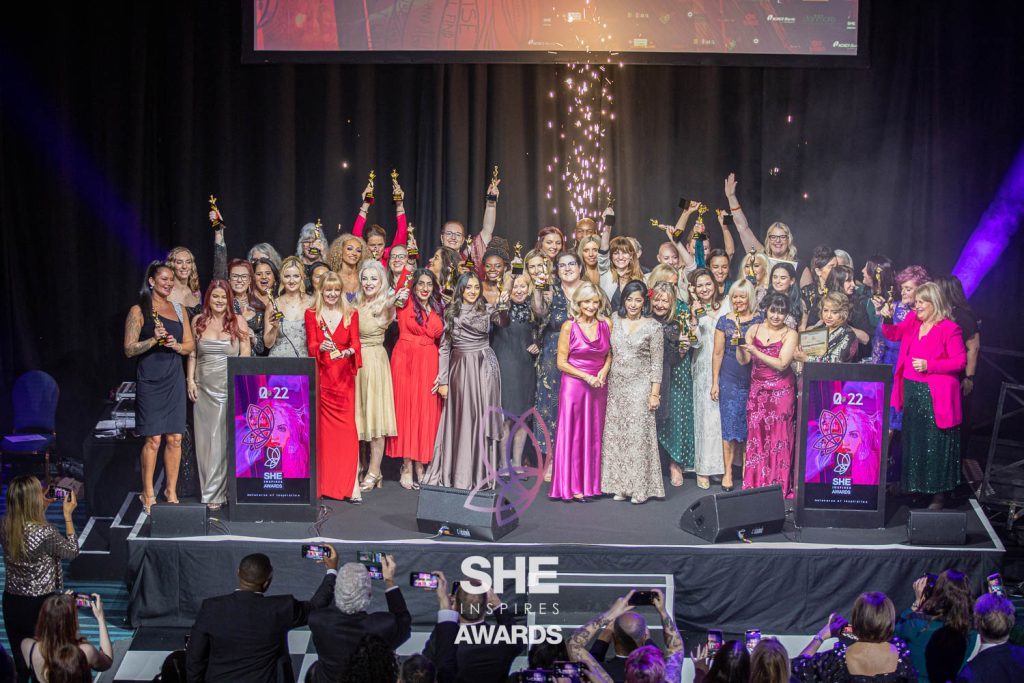 Around 25 women had flown into Manchester Airport especially for the event from as far away as Germany, Denmark, Spain, Doha, South Africa, America and India.
One woman, Sunita Bhuyan a celebrated violinist who was awarded the global Cultural Champion Award, had flown in from India and played a poignant tribute to the late Queen.
As organiser Gulnaz Brennan put it: "It was an incredible night when the whole town came together to celebrate its own women and those from around the world."
One major winner was Dr Helen Wall, the Bolton GP who is also Clinical Director of NHS GM (formerly the CCG) and a pivotal figure in the town's fight against Covid.
She not only scooped the first Women in Health and Medical Services Award but also received the prestigious Woman of the Year Award.
Winning the Women in Health and Medical Services Award, sponsored by the University of Bolton, allowed her to select a charity to receive £10,000. And for Dr Wall – a trustee of Bolton Hospice – the choice was not a difficult one.
Maura Jackson, CEO of Bolton-based young homeless charity BackUp North West, was another double winner. She took the Women in Leadership Award and the charity won the Team of the Year Award.
Commented Maura: "It was the perfect end to 2022 and our 30th anniversary year. It was just amazing to be able to share the night with the staff and for me to win the Leadership Award – but you can only win if you have an amazing team to lead, and I have."
BBC North-west presenter Mairead Smyth hosted the event and Stanmore Insurance Ltd from Little Lever was the headline sponsor. The event was held in partnership with the University of Bolton and Bolton Council. Bolton Sixth Form College and ICICI Bank UK Plc joined the sponsor list for the first time.
Award-winners were:
Women in Business Award –
Start Up Women in Business – Victoria Melling
Women in Business – Gail Hounslea
Fashion Hair & Beauty – Linda Monk
Team of the Year – Charity – BackUp NW
Team of the Year- Business – Acquiesce
SHEro Award
Local – Faria Arsh
National- Annalice Argyle
Global – Dianne Burckhardt GERMANY
Volunteer of the Year Award – Diana Khasa
Young Achiever Award – Sannah Adam
Women in Leadership Award
Local – Maura Jackson
National -Mysoon Shafiq
Global – Miriam De Andres De Castro SPAIN
Health & Medical Profession – De Helen Wall
HER-Abilities Award – Margaret Mary Carroll
Women in Digital – Lydia German
Rising Star Award
Local – Emma Holt
National – Rupinder Sandhu
Global – Noora Fetais DOHA, QATAR
Women in STEM – Cheryl Stevens
Agent of Change
Local – Dani Wallace
National – Kath Samson
Global – Niven Postma SOUTH AFRICA
Networking& Events Award – Angela Gray
Hospitality Award – Jessica Southworth
Fitness & Wellbeing Award – Stacey Withington
Girl Up Award (in memory of Gay Wharton)
Local – Lisa Forshaw
National – Sharon Hinchliff
Global – Ulyana Kyrychuk UKRAINIA
Culture Champion Award
Local – Lotte Wakeham
National – Bihani Sarkar
Global – Sunita Bhuhan INDIA
Lifetime Achievement Award
Local – Jayne Littler
National – Natasha Britton
Global – Lisbeth Johansen DENMARK
SPECIAL AWARDS
Person with a Mission -Lorraine Worsley- Carter MBE DL
Woman of Courage – Dr Zaheda Atcha
Going Above & Beyond – Angela Kelly
Power HER -Dominique Rose
Stepping Stone Prize £1000 – Casual Closet
Woman of the Year
Local – Dr Helen Wall
National – Mysoon Shafiq
Global – Lisbeth Johansen